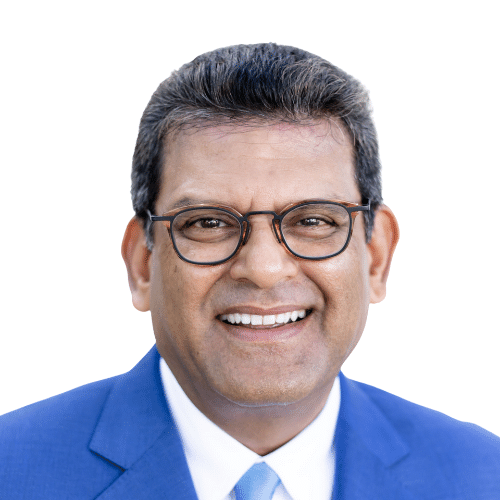 Srini Krishnaswamy
Chief Growth Officer
With more than 30 years of experience in large-scale civil, infrastructure and building project management, Srini Krishnaswamy has built a proven track record of managing multi-billion-dollar projects while running efficient operations with diversified teams. A committed strategic leader, Srini is responsible for designing and implementing Plexos' company-wide strategic growth plan and expanding key client relationships in established and developing markets.

Before he joined Plexos, Srini spent 23 years at AECOM, most recently as Executive Vice President, Americas, where he grew the company's portfolio across North and South Americas and diversified its program, project and construction management service offerings within the public and private sectors. He expanded new businesses and disaster recovery services across the U.S and territories including in the U.S. Virgin Islands, Puerto Rico, Florida, North Carolina, California, Texas and Louisiana. Srini also drove efficiencies in high-impact infrastructure projects benefitting the rail and healthcare industries at the state and local level.

Srini has developed particular expertise in delivering integrated service solutions and designing financial management and reporting metrics that help clients analyze key metrics and hit performance targets. Adept at implementing work share mechanisms, he identifies efficient solutions to provide flexible, quick ramp-up staffing solutions tailored to specific project needs.

While serving as senior project manager and deputy director of Program Planning and Controls for the $25 billion Los Angeles Unified School District New Construction and Modernization Program, Srini developed the strategic execution plan to build 80 new schools and 79 additions. He created an integrated financial system to manage and report on the status of the program, implemented quality control and contract procurement strategies, and designed change management procedures and disputes resolution structures.

Among his many career highlights, Srini served as the project executive for the $8 billion LA Community College District, a senior construction planner for the $1.4 billion Disneyland Resort Expansion, and as principal-in-charge of the $350 million Rio Hondo College Bond program and the $287 million Valley College New Construction and Modernization projects in Los Angeles. Srini also played a key construction management role in the $7 billion expansion of the Los Angeles County Metropolitan Transportation Authority, and several construction programs to build or renovate medical facilities operated by UCLA and Kaiser Permanente.
Education
New Jersey Institute of Technology
M.S. Industrial Engineering and
Engineering Management
Birla Institute of Technology, India
B.S. Electrical
Expertise
Value Engineering
Project management
Program Management
Project Planning
Contract/Construction Management
Bid Management
Quality Control
Quality Assurance