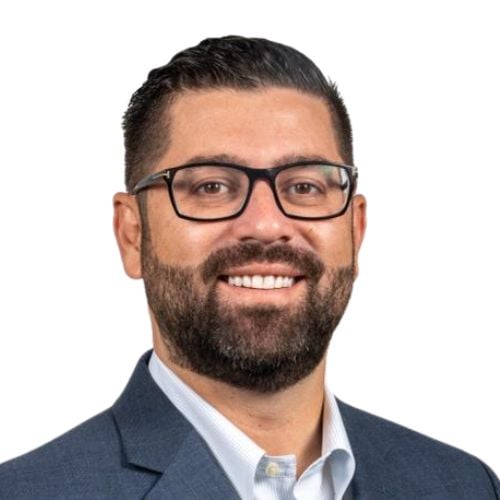 Dennis González, PE
Caribe Infrastructure, Vice President
Dennis González is a highly experienced program and construction management expert in infrastructure and disaster recovery with 18 years of experience in major rebuilding and revitalization programs in Puerto Rico and across the United States. A former Puerto Rico Department of Housing (PRDOH) Deputy Secretary for Recovery, Dennis draws on program design, policy, compliance, and engineering experience in all phases of successful multi-billion-dollar disaster recovery, housing, infrastructure, economic development and construction projects for government and private sector clients.

After the devastation of Hurricane Maria, Dennis helped Puerto Rico repair more than 100,000 homes using $1.3B in Federal Emergency Management Agency (FEMA) Sheltering and Temporary Essential Power (STEP) program funding. He also designed, managed, and implemented a $20.2B Department of Housing and Urban Development (HUD) Community Development Block Grant Disaster Recovery (CDBG-DR) program—the largest disaster recovery program in HUD and U.S. history. As the very first employee on that CDBG-DR program, he grew the team to over 350 staff to develop hundreds of programmatic guidelines, dashboards, and implementation manuals to successfully operate all aspects of the program. Dennis met frequently with members of Congress to advocate for the expedited delivery of CDBG-DR funds and collaborated with key federal stakeholders at FEMA and the Department of Energy to leverage other recovery funding and ultimately disseminate recovery funding to 3.2 million survivors.

Regarded for his energy and versatility, Dennis leads projects and programs towards profitable growth under strict quality standards. Among his career accomplishments, Dennis has managed a 54,000 public housing portfolio that encompassed over $1B in construction projects. His strategic problem-solving ability has led to efficient solutions in an additional $1.5B in construction projects for hospitality, commercial, high-end residential and multifamily housing, and sports centers.

Before he joined Plexos, Dennis served as a director at an emergency management consulting firm where he managed a $200M+ FEMA Public Assistance Program for more than 900 churches and diocesan facilities of the Puerto Rico Catholic Church.

Earlier in his career, Dennis served as Deputy Administrator of the Construction and Development Area of the Puerto Rico Public Housing Administration (PRPHA) where he oversaw engineering and architectural teams in large-scale construction and design programs.
Education
Polytechnic University of Puerto Rico
Master of Engineering Management
University of Puerto Rico
Bachelor of Civil Engineering
Expertise
Civil & Social Infrastructure
Housing
Disaster Recovery
Civil Engineering
Community Resilience
Economic Development
Construction Management
Project Lifecycle Management